(Original article from MyMXB.com)
What's new
As most of you already know, TFC will be joining the Aerial Racing League and will create the 2023 ARL MX tracks. Here are a few words from him: "This years outdoor tracks (National Series II) take things from being an easy going practice experience suitable for all, to a full on pro race weekend experience. I'm really excited that these tracks will be used for the ARL series, I think the requirements of the racing scene for the right type of track has really helped to push these tracks up into the next level.
Layouts and schedule
National Series II is based on the 22 season, but in the order and location of the 23 schedule, and being pro race versions brings some big changes to both how they ride and how they look.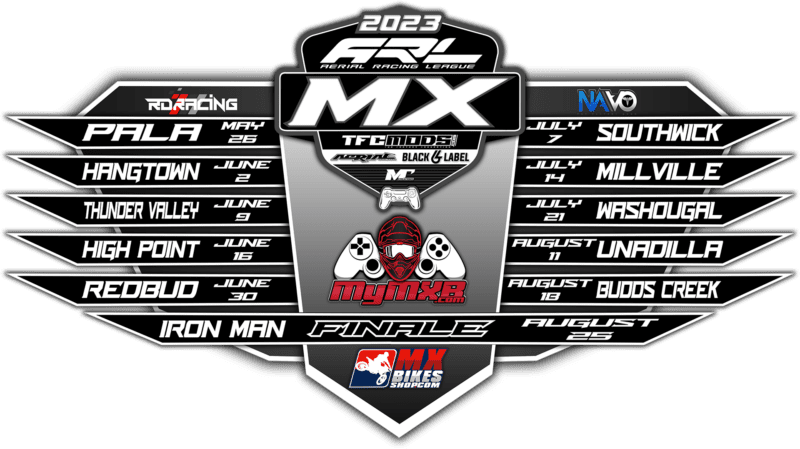 Expect challenging but realistic roughness in the form of braking bumps, acceleration bumps and general surface roughness, and multiple line choices that reflect reality. Each track also comes with updated buildings and objects where applicable, and are completely decked out with banners, gates, inflatables, vehicles, tents, and of course a full crowd of spectators.
To top it off, these tracks feature updated textures for different soil types, improved rut effect normal maps, better colours in general and lastly, a few fixed errors in the skydome background and new unique and more vibrant clearsky variants for each round.
All the best to everyone involved in the ARL Series and all those competing. The goal is that these tracks provide a stable and challenging platform for everyone involved.
Amateurs unforgotten
ARL Amateur Series will officially open its doors this friday, the events will be held in between EU & NA pro races at 5pm EST. You can find more info in this discord server.
Black Label Co. will return as the official title sponsor for NA while Aerial Race Wear will be representing EU
Race coverage
Not a new addition but we will have @Navo009 & @DOC back in the booth for MX!
Are you ready?
Please be sure to read the ⁠arl-rules before asking any questions. Registrations for EU round 1 will open tomorrow at 8pm EST. You can find the new series logo that will need to be added to your bike skins above Please post your skins in ⁠arl-skins-thread before Friday or there is not a guarantee your teams skins will be downloaded in time.
Get your Season Pass
Grab all tracks with a discounted price! Click the image below to get redirected to the Season Pass page: